Multi-Doctor Veterinary Practice
New Jersey licensed veterinarians (medicine, surgery, and dentistry) employed at True Care Veterinary Hospital are screened and chosen by Dr. Tullio prior to evaluating patients and servicing clients. This pledge extends to all full-time, part-time, and per diem veterinarians working at True Care Veterinary Hospital and True Care Veterinary Home Services.
Dr. Thomas Tullio, DVM

Veterinarian (Owner)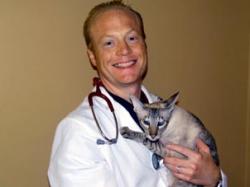 Dr. Thomas Tullio created True Care Veterinary Hospital and True Care Veterinary Home Services in the summer of 2011. He saw the need for a responsible, veterinarian-owned hospital in the community, for the community.
Because every patient is special and every situation unique, Dr. Tullio believes in personalized care for his patients. He emphasizes this when discussing options with his clients and is able to monitor the hospital's direction by having frank discussions with all of his clients. This mentality has created very strong bonds between Dr. Tullio, his clients, his patients, and the community.
Dr. Tullio devotes time to sharing his experience and knowledge with the community. He visits local schools and community affairs to discuss various career paths available within the animal health industry. He enjoys spending time with his wonderful wife, two beautiful daughters, dog (Nellie), and cats (Tao, Mia, and Basil).
Originally from northern New Jersey, Dr. Tullio attended Catholic University of America in Washington, D.C., and graduated with a B.S. in chemistry. He worked in the veterinary industry for a number of years prior to attending Ross University School of Veterinary Medicine. He completed his clinical training at Purdue University School of Veterinary Medicine in 1999.
After graduation, Dr. Tullio worked at an emergency and specialty veterinary hospital in Staten Island, New York, for several years. He developed a strong interest in advanced dentistry and gained valuable experience in canine and feline medicine and surgery.
Dr. Tullio returned to his roots in New Jersey after accepting a position as Medical Director of Freehold Animal Hospital. Dr. Tullio led Freehold Animal Hospital as Medical Director from 2004–2011.
Dr. Roseanne Labi, DVM

Veterinarian
Dr Labi graduated Cum Laude from St George's University School of Veterinary Medicine in 2014. She went on to complete a one year rotating internship in Small Animal Medicine and Surgery through Red Bank Veterinary Hospital in 2015. She enjoys spending time with her family, friends, and two cats Maya and Smoke. Her hobbies include cooking, yoga, music, traveling, and outdoor activities.
Dr. Patricia Zinna, DVM

Veterinarian
Dr. Patricia Zinna resides in Matawan, NJ . Dr. Zinna graduated from Cornell University, College of Veterinary Medicine, Ithaca, NY in May 1998. She also holds degrees in both psychology and business administration. She has concentrated her career in small animal medicine over the past 17 years and has been a New Jersey licensed veterinarian since 1999. Dr. Zinna has a special interest in canine physical rehabilitation and has completed advanced veterinary courses in Acupuncture and Dentistry. Dr. Zinna also enjoys biking, triathlons, volunteerism, oil painting, yoga, and hiking. We are very fortunate to have such a wonderfully experienced, knowledgeable, friendly and caring doctor join our team.
Dr. Marc Weissman, DVM

Veterinarian
Ashleigh Berger

Hospital Manager & Staff Supervisor
Ashleigh was born in Secaucus, NJ and moved to Jackson when she was a young child. Ashleigh currently resides in Parlin, NJ with her fiancé Eric and their beautiful daughter Alivia. They have a unique Bengal cat, "Carter," as well as two other cats.
Growing up Ashleigh always had a passion for animals and is pursuing a career as a veterinary technician. Ashleigh graduated from JMHS in 2006 and continued her education at OCC through 2008. Ashleigh enjoys anything outdoorsy, and spending as much time as possible with her family and friends.
Kaitlin Lang

Technician/Client Care Rep./Supervisor
Kaitlin Lang graduated from Howell High School in 2009. She continued her education as an English major at St. Joseph's University. Kaitlin has a very rambunctious silver Labrador named Joben, who has enough energy for the both of them.
Kaitlin enjoys attending music festivals, traveling, go-cart racing and being outdoors. She loves being in the veterinary field and cares deeply for all animals. We welcome Katlin to our True Care family.
Brianne Barrett

Client Care Representative/Receptionist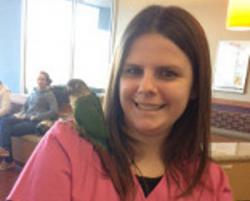 Brianne Barrett graduated from Howell High School in 2010. She continued her education at Brookdale Community College. She has 2 rambunctious puppies who keep her on her toes. Brody, a West Springer Spaniel mix and Guinness, a Goldendoodle.
Brianne loves spending time with friends and family in her spare time. She has a passion for animals and we welcome her to True Care Veterinary Hospital.
Alyssa Nicoll

Client Care Representative/Receptionist
Michelle Giallanza

Technician
Melody Sisson

Technician
Jessica Buglione

Technician
Anthony Diaz

Technician
Megan Arabright

Technician
Sierra Newman

Technician
Melissa Petraglia

Receptionist
Matthew Aiken

Receptionist
Danielle DiCristofalo

Receptionist
Ali Echevarria

Receptionist
Doctor Tullio is a kind, caring gentleman who has cared for my cocker spaniels for many years now. He has always been helpful' honest' and understanding with my pets and me. He is a man I trust completely and have and do refer others to him. Any pet owner can feel safe and secure in trusting their beloved pets to his skilled hands.

—Margaret Rowe' Howell' NJ
When my parents' dog Kya died very suddenly a few years ago' their regular vet was not at work that day. But thankfully' Dr. Tullio was and treated my parents and their dog as if he was their doctor for the past 15 years—doing everything he could to try and revive Kya and by being so compassionate to my parents in the waiting room after having to deliver the sad news. We truly can't say enough nice things about Dr. Tullio and can't wait for him to open his new facility! Thank you.

—Lori Forrest & Bob Leahy
Molly and Oscar have been patients of Dr. Tullio for several years. I have been very pleased with his care' his expertise' and his understanding with my two Wheatens. Dr. Tullio has been quick to diagnose any issues and remedy all of the problems we've had. I look forward to many more years working with Dr. Tullio. I wish him well in his venture.

—Fran Skiba
Dr. Tullio has always treated our dogs with great knowledge' care' and compassion' and we have grown to know him quite well. We have been so completely impressed with Dr. Tullio's consistent excellence in care and services that we wanted to share our experience with others. We are pleased to recommend as the place to go for both quality treatment and compassionate care for your furry family members.

—Chuck Porrazzo