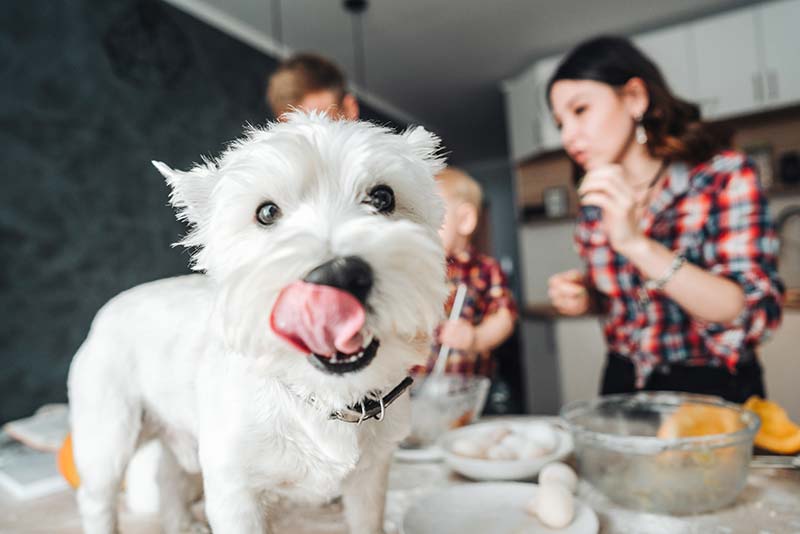 With the holidays fast approaching, you may be thinking of all the delicious foods you'll be serving (and eating!). Most pet owners are also guilty of sharing the holiday feast with their pets. However, besides adding unnecessary fat and calories, feeding your pet table scraps can lead to a potentially fatal condition called pancreatitis.

Pancreatitis in pets seems to pop up like clock work each year around the holidays, but, in reality, pancreatitis can occur at any time. That's why it's important to know the facts and practice good pet safety habits year-round.
Pancreatitis in Pets
The pancreas is an organ located near the stomach and small intestine, and it's responsible for producing insulin and enzymes that aid in your pet's digestion. When the pancreas becomes inflamed, the condition is called pancreatitis. Acute pancreatitis can cause organ damage and is extremely painful for your pet.

Although there can be a variety of reasons why pancreatitis occurs, the ingestion of rich, fatty foods is a common cause. Animals seldom tolerate high fat foods, and even a nibble here and there can cause big problems.
Signs of Pancreatitis in Pets
Symptoms of pancreatitis in pets can be difficult to identify because they're often non-specific. Dogs and cats can even present different symptoms. Regardless, pancreatitis is painful for your pet and must be treated immediately for the best outcome. If your pet is experiencing any of the following signs, please contact us right away:

Anorexia (loss of appetite)
Abdominal pain
Recurrent vomiting
Diarrhea
Dehydration
Lethargy
Fever
Hunched over appearance
Treatment
A diagnosis may be made using blood tests, x-rays, and ultrasound. The effective treatment of pancreatitis relies on an early diagnosis and aggressive supportive care, including:

Intravenous fluids
Pain medication
Anti-nausea drugs
Anti-vomiting drugs
Antibiotics
Withholding food
Unfortunately, severe pancreatitis may be fatal, even with veterinary intervention and treatment.
Prevention
The exact cause of pancreatitis in pets is still a mystery, but we do know that overweight pets are at an increased risk. For pets who've experienced a bout of pancreatitis in the past, even one bite of a fatty food can trigger another episode.

Besides obesity, other known risk factors include:

High levels of fat in the blood
Certain medications
Trauma
Infection
Tumors
Breed (miniature schnauzers, cocker spaniels, and miniature poodles are at increased risk)
Making sure your pet maintains a healthy weight and eliminating access to table scraps and the garbage (especially post-meal time) can go a long way toward preventing pancreatitis.

If you have any questions or concerns, please don't hesitate to call the team at True Care Veterinary Hospital.
Molly and Oscar have been patients of Dr. Tullio for several years. I have been very pleased with his care' his expertise' and his understanding with my two Wheatens. Dr. Tullio has been quick to diagnose any issues and remedy all of the problems we've had. I look forward to many more years working with Dr. Tullio. I wish him well in his venture.

—Fran Skiba
Doctor Tullio is a kind, caring gentleman who has cared for my cocker spaniels for many years now. He has always been helpful' honest' and understanding with my pets and me. He is a man I trust completely and have and do refer others to him. Any pet owner can feel safe and secure in trusting their beloved pets to his skilled hands.

—Margaret Rowe' Howell' NJ
When my parents' dog Kya died very suddenly a few years ago' their regular vet was not at work that day. But thankfully' Dr. Tullio was and treated my parents and their dog as if he was their doctor for the past 15 years—doing everything he could to try and revive Kya and by being so compassionate to my parents in the waiting room after having to deliver the sad news. We truly can't say enough nice things about Dr. Tullio and can't wait for him to open his new facility! Thank you.

—Lori Forrest & Bob Leahy
Dr. Tullio has always treated our dogs with great knowledge' care' and compassion' and we have grown to know him quite well. We have been so completely impressed with Dr. Tullio's consistent excellence in care and services that we wanted to share our experience with others. We are pleased to recommend as the place to go for both quality treatment and compassionate care for your furry family members.

—Chuck Porrazzo