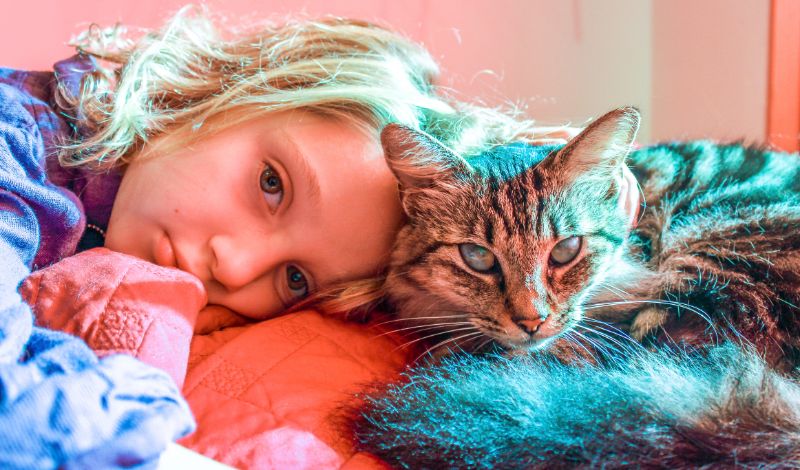 For many children, their first experience of death occurs with the loss of a pet. The death of a pet offers parents the chance to show their children that death is a part of life and that it's ok to grieve. 
Explaining pet loss to children depends on the age of the child and the parent's comfort level with loss and grief. Come along with True Care Veterinary Hospital as we explore explaining pet loss to children.
Explaining Pet Loss to Children
Any child old enough to have a relationship with a pet is old enough to be informed that a pet has passed. It may be a tough conversation, but children deserve to know if their pet has died, whether by euthanization or natural causes.
There are many ways that parents can explain pet loss to children. Experts recommend that parents:
Make children as comfortable as possible
Tell the child in a familiar setting
Use a soothing voice
Be honest
Answer all questions, but answer simply, in terms the child can understand
Parents should take some time to think about their own thoughts and beliefs about death, and share them with their children. Share your feelings, too! This helps your kids understand that it's ok to be sad and to grieve. 
There are also several books that can help parents with explaining pet loss to children. Try any of the following:
The Dead Bird by Margaret Wise Brown
Badger's Parting Gift by Susan Varley
The Tenth Good Thing About Barney by Judith Viorst
More Than Words
Children, especially young children, process feelings through action. So most experts recommend finding ways to honor your pet with actions that children can participate in. These may include:
Having a memorial for your pet, that your children can help plan and participate in
Frame a picture and create a special space in your home to honor your pet
Light a candle for your pet or release a balloon, and talk about special memories
Plant a tree or plant in your garden as a special tribute to your pet
Make a scrapbook or memorial box with mementos of your pet
Have your child paint a picture of your pet, and talk with them about their favorite times together
Children may want to play out the pet's death over and over again with puppets or stuffed animals. This is a child's way of processing and should be encouraged if they initiate it.
Don't Forget
It may sound strange, but recalling past pets is a healthy family pastime. Telling funny stories, sharing fond memories, and even allowing your child their sad feelings again when remembering their pet are all good ways to process.
Kids are just like the rest of us. When a pet dies, they (and we) need honesty, mutual respect, and a way to grieve in a safe and supportive environment.
If you have any questions about explaining pet loss to children or about your pet's health, please contact us.

Dr. Tullio has always treated our dogs with great knowledge' care' and compassion' and we have grown to know him quite well. We have been so completely impressed with Dr. Tullio's consistent excellence in care and services that we wanted to share our experience with others. We are pleased to recommend as the place to go for both quality treatment and compassionate care for your furry family members.

—Chuck Porrazzo
Molly and Oscar have been patients of Dr. Tullio for several years. I have been very pleased with his care' his expertise' and his understanding with my two Wheatens. Dr. Tullio has been quick to diagnose any issues and remedy all of the problems we've had. I look forward to many more years working with Dr. Tullio. I wish him well in his venture.

—Fran Skiba
When my parents' dog Kya died very suddenly a few years ago' their regular vet was not at work that day. But thankfully' Dr. Tullio was and treated my parents and their dog as if he was their doctor for the past 15 years—doing everything he could to try and revive Kya and by being so compassionate to my parents in the waiting room after having to deliver the sad news. We truly can't say enough nice things about Dr. Tullio and can't wait for him to open his new facility! Thank you.

—Lori Forrest & Bob Leahy
Doctor Tullio is a kind, caring gentleman who has cared for my cocker spaniels for many years now. He has always been helpful' honest' and understanding with my pets and me. He is a man I trust completely and have and do refer others to him. Any pet owner can feel safe and secure in trusting their beloved pets to his skilled hands.

—Margaret Rowe' Howell' NJ