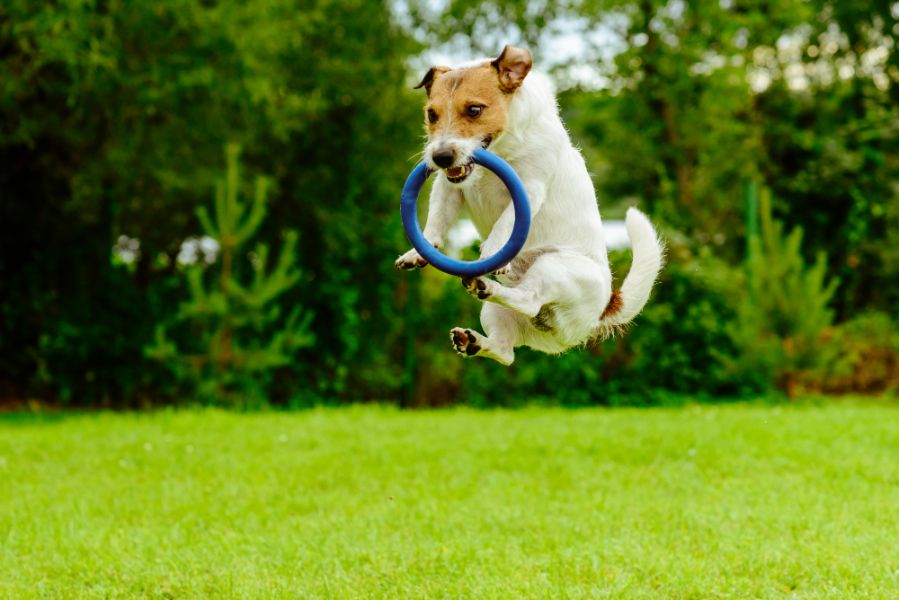 Summer is a cherished season for us and for our dogs. It's prime time for hiking, running, camping, grilling, and backyard chilling. But the dog days of summer can leave your pet bored with the same old games or walks.
To keep your pet fit and happy this season, the team at True Care Veterinary Hospital came up with 10 of our best ideas for great summer activities for dogs that you both will enjoy.
10 Fun Summer Activities for Dogs
Having an active life is made possible when the weather is nice and the sun is shining. You and your pet will likely take more time to do things outdoors this time of year. To avoid falling into the boredom blues with the same old doggie exercise routine, here are a few of our favorite games.
New class – If your dog loves other dogs and a great challenge, signing them up for group classes can be a good option for the both of you. There are classes in advanced commands, dog aerobics, and even yoga, or doga as they call it. If your dog isn't a group oriented doggo, you can even do a course online with your friend and practice in the yard.

Fetch – This favorite game is an easy way for your dog to expend a lot of energy. You can use a Frisbee, toy, ball, or any other durable item for them to run and fetch.

Trick training – If your dog was the head of the class when it came to training, star pupils may enjoy trick training. You can train your dog to roll over, beg, sit up, play dead, perform circles, and other tricks that challenge you both.

Swimming – If you have a backyard pool, teaching your pet to swim is the best way to stay cool while getting fit. Start slowly in the shallow end to get your pet used to the water. Install a dog ramp which would allow your pet to get out should they become disoriented and afraid. Always supervise your pet around water. Better yet, swim with them!

Splashtime – If you don't have a pool, you can still give your dog a cool treat by getting a kiddie pool just for them. Some dogs also love to try to catch a spray from the hose and really enjoy playing in sprinklers, too (just like kids!).

Scavenger hunt – Hide favorite toys, treats, or maybe a portioned out meal in various places around the backyard. Your pet will put their scent skills to the test as they roam around looking for the rewards.

Agility – Many energetic dogs will be excited to learn how to get through an agility course made for them. It requires some training and practice runs, but you can get your dog to run around obstacles, jump over poles, crawl through tunnels, and so on. You can make your own agility course by consulting some DIY online sites or you can buy one already made.

Tug of war – This much loved pastime is one of most dog's favorite things to do. It relies on their natural instinct to pull apart prey or compete for their next meal. Tug of war can strengthen the muscles and give your pet a lot of mental stimulation, and they love the interaction!

Food puzzles – What self-respecting canine doesn't get motivated by food? Probably very few. These inquisitive pups love a good challenge and the reward of food when they solve the puzzle. Food or treat puzzles help entertain your pet and keep them from eating their food too quickly.

Your attention – No matter what you choose as entertainment for your pet, they will be sure to thrive and be happy with your attention. No toy or treat can replace your affection and the time you take to play with them.
If you would like additional amazing ideas about summer activities for dogs, just give us a call. And don't forget to keep your pet cool and hydrated when you are enjoying the beautiful weather.
Molly and Oscar have been patients of Dr. Tullio for several years. I have been very pleased with his care' his expertise' and his understanding with my two Wheatens. Dr. Tullio has been quick to diagnose any issues and remedy all of the problems we've had. I look forward to many more years working with Dr. Tullio. I wish him well in his venture.

—Fran Skiba
Dr. Tullio has always treated our dogs with great knowledge' care' and compassion' and we have grown to know him quite well. We have been so completely impressed with Dr. Tullio's consistent excellence in care and services that we wanted to share our experience with others. We are pleased to recommend as the place to go for both quality treatment and compassionate care for your furry family members.

—Chuck Porrazzo
Doctor Tullio is a kind, caring gentleman who has cared for my cocker spaniels for many years now. He has always been helpful' honest' and understanding with my pets and me. He is a man I trust completely and have and do refer others to him. Any pet owner can feel safe and secure in trusting their beloved pets to his skilled hands.

—Margaret Rowe' Howell' NJ
When my parents' dog Kya died very suddenly a few years ago' their regular vet was not at work that day. But thankfully' Dr. Tullio was and treated my parents and their dog as if he was their doctor for the past 15 years—doing everything he could to try and revive Kya and by being so compassionate to my parents in the waiting room after having to deliver the sad news. We truly can't say enough nice things about Dr. Tullio and can't wait for him to open his new facility! Thank you.

—Lori Forrest & Bob Leahy