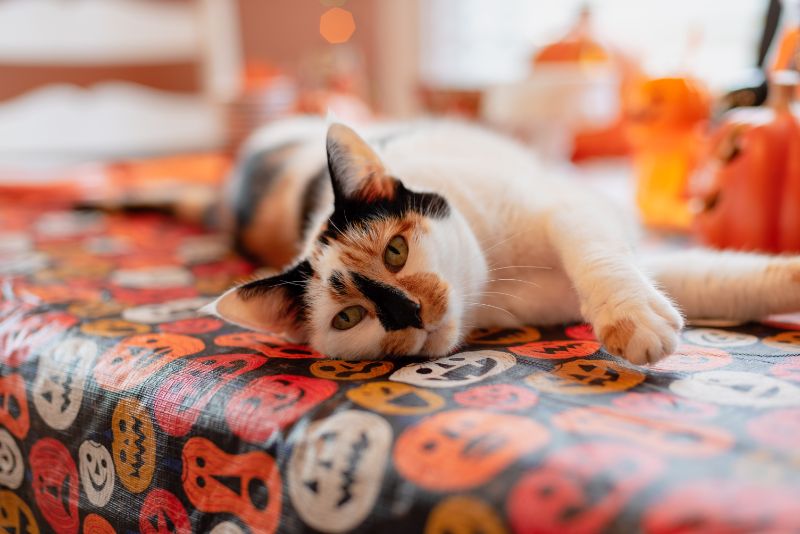 There's nothing worse than a pet emergency, except for those times when a dire situation could have been prevented. When it comes to celebrating a holiday with pets, the focus definitely tends to shift away from the routine toward creating special moments and lasting memories. But, without a conscious and complete nod to Halloween pet safety, all the potential fun and good times can quickly become downgraded by a pet's holiday-related fear, stress, illness or injury.
Covering All Bases
One of the best defenses against Halloween-related threats is to simply keep your pet away from possible dangers. Keep your pet confined to a comfortable, well-ventilated back room away from the constantly ringing doorbell. You could also crate them during the peak hours of trick-or-treating to keep them from bolting out the door into the night.
Identification Matters
Another fantastic way to deal with your pet's fight-or-flight instinct is to ensure they are wearing their collar with legible ID tags. Reflective or light up gear is essential for pets accompanying their families around the neighborhood for trick-or-treating.

Likewise, microchipping your pet is an essential safeguard against possible separation. Be sure to register your contact information with their chip manufacturer, and update any changes over the years.
The Treat Factor
It wouldn't be Halloween without abundant treats. Chocolate toxicity is, unfortunately, a common occurrence this time of year. Other treats can have high sugar and fat content that are arguably very risky to pet health. To prevent a pet poisoning, be on the lookout for sugar-free candies and baked goods containing Xylitol, an artificial sweetener that's highly toxic to pets.

Lastly, GI obstruction and choking are less obvious risks related to Halloween candy but wrappers can definitely cause a true pet emergency.
Decor & Costumes
Pets may be easily startled or frightened by animated decorations or those that have frightening sounds. Steer them away from displays around the neighborhood, and try to resist them at home.

Pumpkins, candlelit jack-o'lanterns, glowsticks, and string lights all pose certain risks to pets that like to nibble or taste things.

Please be cautious if/when dressing up your pet for Halloween. They can quickly become overheated and uncomfortable. Costumes can get twisted up and caught on objects, entrapping them. Remove the costume if you notice abnormal respiration, obstructed visibility, and awkward or uncomfortable movements, or signs of stress or anxiety.
Committing to Halloween Pet Safety
If your pet just isn't up to it this year, simply turn off your home's lights and settle in for a cozy movie night together. With little or no exposure to threats, Halloween pet safety can be a reality.

As always, please contact us with any questions or concerns. True Care Veterinary Hospital is always here for you and your pet!

When my parents' dog Kya died very suddenly a few years ago' their regular vet was not at work that day. But thankfully' Dr. Tullio was and treated my parents and their dog as if he was their doctor for the past 15 years—doing everything he could to try and revive Kya and by being so compassionate to my parents in the waiting room after having to deliver the sad news. We truly can't say enough nice things about Dr. Tullio and can't wait for him to open his new facility! Thank you.

—Lori Forrest & Bob Leahy
Dr. Tullio has always treated our dogs with great knowledge' care' and compassion' and we have grown to know him quite well. We have been so completely impressed with Dr. Tullio's consistent excellence in care and services that we wanted to share our experience with others. We are pleased to recommend as the place to go for both quality treatment and compassionate care for your furry family members.

—Chuck Porrazzo
Doctor Tullio is a kind, caring gentleman who has cared for my cocker spaniels for many years now. He has always been helpful' honest' and understanding with my pets and me. He is a man I trust completely and have and do refer others to him. Any pet owner can feel safe and secure in trusting their beloved pets to his skilled hands.

—Margaret Rowe' Howell' NJ
Molly and Oscar have been patients of Dr. Tullio for several years. I have been very pleased with his care' his expertise' and his understanding with my two Wheatens. Dr. Tullio has been quick to diagnose any issues and remedy all of the problems we've had. I look forward to many more years working with Dr. Tullio. I wish him well in his venture.

—Fran Skiba