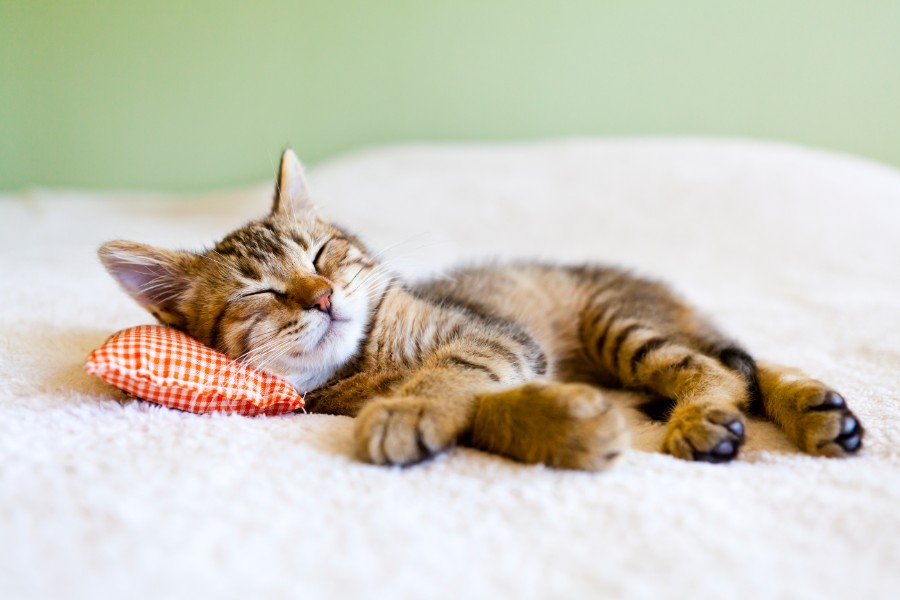 Even though it still may seem like the dead of winter, spring is right around the corner. And with it, the spring and summer travel season. Are you thinking ahead to who will care for your cat while you're away from home?

Cats generally do not travel well, and take a lot of time to adjust to new places. Spending your time on your trip helping your cat adjust can take up most of your vacation. Asking a friend to look after your cat isn't always the right option.

Professional cat boarding can give you peace of mind while you're away. Knowing your cat will be well taken care of and safe is an important consideration of choosing a boarding kennel for her.
Here, True Care Veterinary Hospital shares the dos and don'ts of boarding your cat.
The Do's of Boarding Your Cat
Although 30 million pet owners board their pets each year, not all pet boarding facilities are created equal. There's wide variation in the type, service, and even safety that boarding facilities offer. So the first "do" is to do your research.

To help you prepare, we have the following "do's" when preparing for boarding your cat.

Make an appointment to tour the facility, and ask lots of questions
When possible, choose a boarding facility that is connected with or located in a veterinary hospital. Having trained veterinary staff on hand is invaluable in the unlikely event your pet experiences an injury, illness or other veterinary need while you're away.
Look for cleanliness, safety, a professional and knowledgeable staff, friendliness, and comfort.
Ask for references and follow up on them
Make your reservation ASAP
Schedule a pet wellness exam to make sure your cat has all their vaccinations and parasite control in place well before boarding
Look into having add on services for your cat while you're away, such as grooming, extra brushing and TLC, or a dental cleaning.
Ask us about kitty pheromones that can make traveling to the boarding facility as well as a boarding stay more comfortable for your cat
Ask us about leaving a tshirt or other small item with your smell on it to comfort your cat with familiar smells.
Some Don'ts for Boarding Success
When dropping off, don't forget to pack your cat's food. Cats are sensitive to any change, and will be happiest with their normal diet
Don't forget to include any medications and instructions for administering them. Please don't mix medications into food or take them out of their original bottles; original packaging, please!
A little snuggle time at drop off is definitely in order, but don't draw out your goodbye too long. This can confuse your kitty and make leaving harder for you.
Don't hesitate to check in! We would be happy to give you updates at any time with how your kitty is doing while you're away.
At True Care Veterinary Hospital, you can expect professional, comfortable, and loving care for your cat while they are with us. Please don't hesitate to contact your Howell Vet with any questions or to schedule a tour of our boarding area. We love cats and will make them feel right at home. We look forward to seeing you soon!

When my parents' dog Kya died very suddenly a few years ago' their regular vet was not at work that day. But thankfully' Dr. Tullio was and treated my parents and their dog as if he was their doctor for the past 15 years—doing everything he could to try and revive Kya and by being so compassionate to my parents in the waiting room after having to deliver the sad news. We truly can't say enough nice things about Dr. Tullio and can't wait for him to open his new facility! Thank you.

—Lori Forrest & Bob Leahy
Doctor Tullio is a kind, caring gentleman who has cared for my cocker spaniels for many years now. He has always been helpful' honest' and understanding with my pets and me. He is a man I trust completely and have and do refer others to him. Any pet owner can feel safe and secure in trusting their beloved pets to his skilled hands.

—Margaret Rowe' Howell' NJ
Molly and Oscar have been patients of Dr. Tullio for several years. I have been very pleased with his care' his expertise' and his understanding with my two Wheatens. Dr. Tullio has been quick to diagnose any issues and remedy all of the problems we've had. I look forward to many more years working with Dr. Tullio. I wish him well in his venture.

—Fran Skiba
Dr. Tullio has always treated our dogs with great knowledge' care' and compassion' and we have grown to know him quite well. We have been so completely impressed with Dr. Tullio's consistent excellence in care and services that we wanted to share our experience with others. We are pleased to recommend as the place to go for both quality treatment and compassionate care for your furry family members.

—Chuck Porrazzo