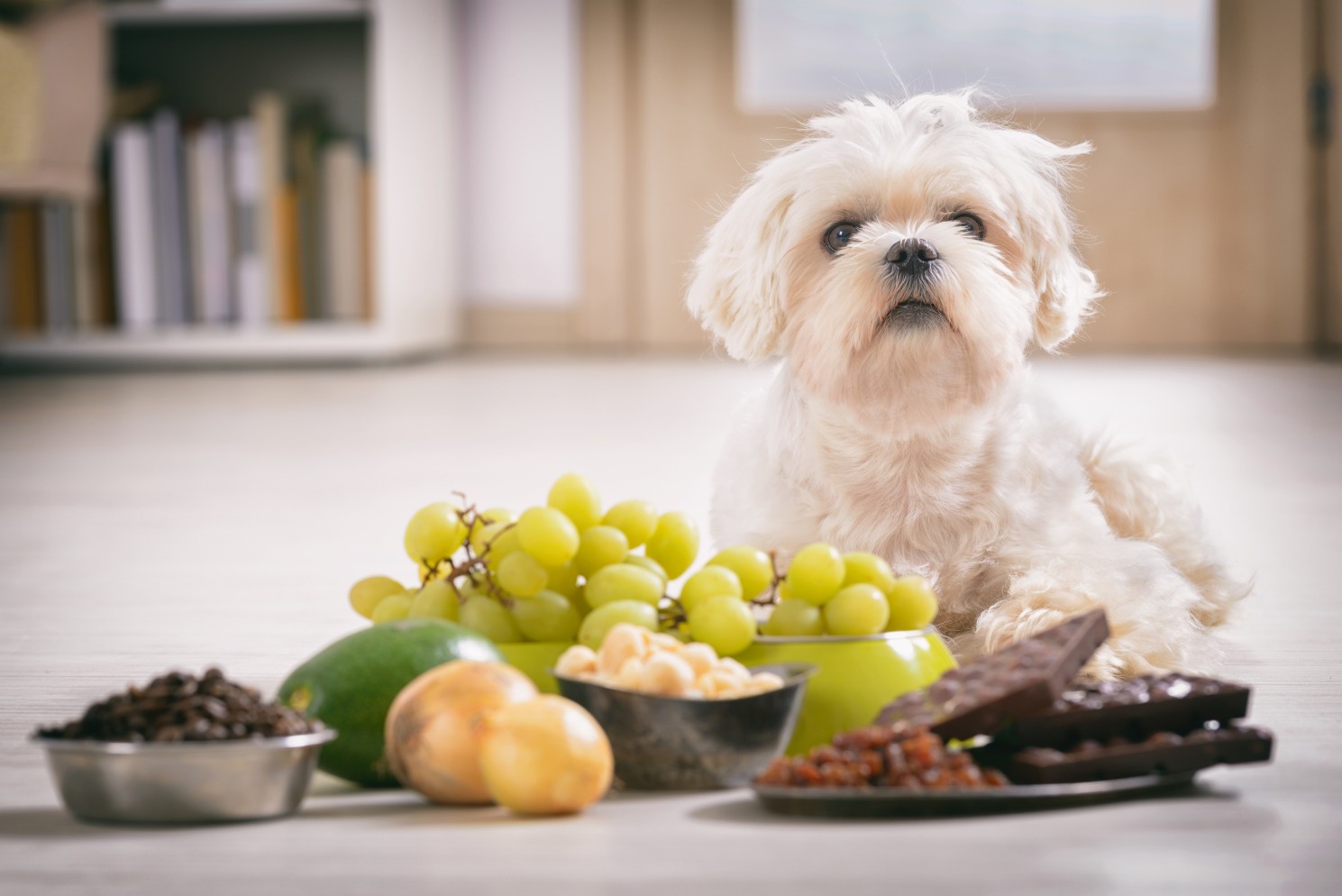 Pet owners like to share all aspects of life with their best friends, but unless skydiving or spelunking becomes safe for pets, we can't do everything together. Similarly, while it may seem like offering them little bits of our food (or inadvertently making it available) is harmless, this can lead to some pretty big problems.
Fortunately, there's much we can do to prevent a pet poisoning by knowing which human foods are safe and which are toxic.
Broad Strokes
In addition to the fact that some foods are downright toxic for animals, there are also other hazards associated with human foods. Allergic reactions, bacterial infections, pancreatitis, weight gain, choking, and gastrointestinal obstructions round out the list of reasons people shouldn't share their food with their pets.
The Food Effect
When it comes to human foods, there are some non-negotiable items to avoid, such as:

Alcohol
Caffeine
Chocolate
Xylitol
Garlic/garlic powder
Onions/onion powder
Chives
Leeks
Shallots
Grapes/raisins/currants
Macadamia nuts
Uncooked, yeast dough
Preventing a pet poisoning can be as easy as eliminating possible exposure, but pets have a tendency to sneak food when you aren't looking. They're food-driven, highly curious creatures who are seemingly ravenous when it comes to whatever their owners are eating.
Pet Poisoning Facts
If you happen to notice any of the following symptoms of a pet poisoning, please let us know right away:

Vomiting
Diarrhea (with or without blood)
Irregular heartbeat
Loss of appetite
Lethargy/listlessness
Seizure
Sharing is Caring
While you definitely want to limit opportunities for your pet to sneak any dangerous foods, there are many tasty additions you can add to their diet. Always offer clean, fresh, bite-sized pieces to reduce the chance of choking. Special treats can include:

Fruit (bananas, blueberries, cantaloupe, mangoes, apples, apricots, watermelon)
Veggies (unsweetened pumpkin, broccoli, carrots, cauliflower, green beans, peas, lettuce, zucchini, cucumbers, celery, spinach, corn off the cob, ripe tomatoes)
Fully cooked, bite-sized pieces of lean meat, like chicken or turkey
Cooked salmon or tuna
Hard-boiled eggs
Plain yogurt
Cheese, like gouda, swiss, or cheddar (only in very small amounts)
Plain, unsalted, unsweetened peanut butter (be sure it's free of xylitol!)
Plain popcorn
It's normal to share some goodies with your pet, but please be aware of their caloric intake. If needed, adjust their daily meal portions on days when they've enjoyed extra snacks. Also increase their exercise time to counterbalance the consumption of yummy people foods.

The team at True Care Veterinary Hospital is always here for you and your pet. Please don't hesitate to contact your Howell Nj vet with any questions or concerns!

Doctor Tullio is a kind, caring gentleman who has cared for my cocker spaniels for many years now. He has always been helpful' honest' and understanding with my pets and me. He is a man I trust completely and have and do refer others to him. Any pet owner can feel safe and secure in trusting their beloved pets to his skilled hands.

—Margaret Rowe' Howell' NJ
When my parents' dog Kya died very suddenly a few years ago' their regular vet was not at work that day. But thankfully' Dr. Tullio was and treated my parents and their dog as if he was their doctor for the past 15 years—doing everything he could to try and revive Kya and by being so compassionate to my parents in the waiting room after having to deliver the sad news. We truly can't say enough nice things about Dr. Tullio and can't wait for him to open his new facility! Thank you.

—Lori Forrest & Bob Leahy
Dr. Tullio has always treated our dogs with great knowledge' care' and compassion' and we have grown to know him quite well. We have been so completely impressed with Dr. Tullio's consistent excellence in care and services that we wanted to share our experience with others. We are pleased to recommend as the place to go for both quality treatment and compassionate care for your furry family members.

—Chuck Porrazzo
Molly and Oscar have been patients of Dr. Tullio for several years. I have been very pleased with his care' his expertise' and his understanding with my two Wheatens. Dr. Tullio has been quick to diagnose any issues and remedy all of the problems we've had. I look forward to many more years working with Dr. Tullio. I wish him well in his venture.

—Fran Skiba