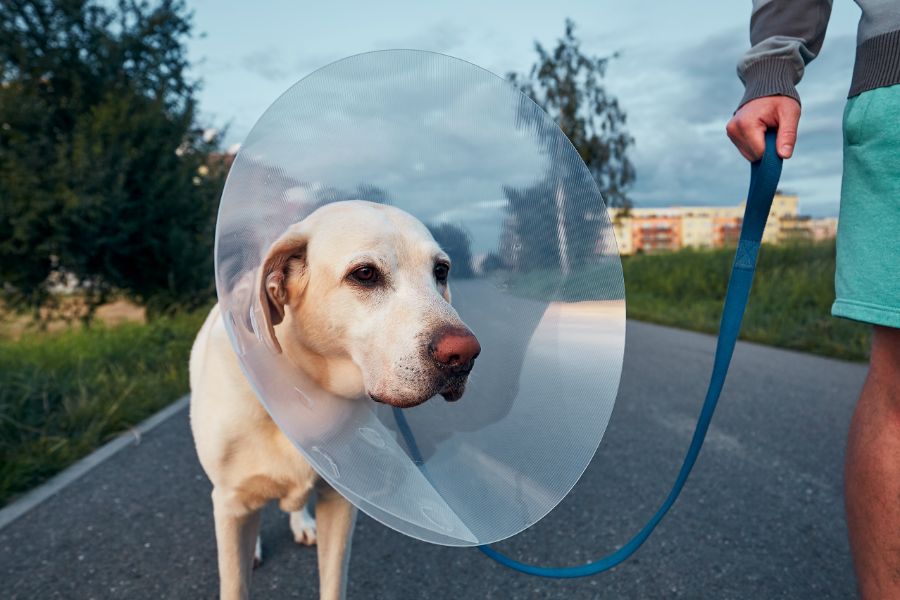 After any surgery, your pet will need a great deal of rest so they can successfully heal. During this time, they might be immobilized or under strict orders from the veterinarian on how to promote recovery and mitigate any potential for injury or a set-back. Along with rest and recuperation, your pet will eventually need a slow introduction to exercise and mental enrichment.
The team at True Care Veterinary Hospital understands how important the postoperative period is in promoting the best possible healing for your furry loved one. Here are some tips and recommendations for safely exercising your pet after surgery, along with options for entertainment.
First Things First
The initial shock of a veterinary surgery is felt by both the recovering patient and the pet parent. This time can be stressful, uncomfortable, and worrisome, but know that the recovery phase will lead to a healthier pet. Still, for those dogs who are very rambunctious and energetic, it may seem absurd to try and keep them on bed rest for any given period of time.
Thankfully, your veterinarian will go over the rules of recovery with you. We can discuss what to expect after a procedure and when and how to exercise your pet during this critical time. Most importantly, following the recommendations to the letter will expedite healing and reduce the risk of an injury or repeat hospital stay.
Slow and Progressive Exercise
A part of this time of healing includes gentle exercise. At first, the exercise may be relegated to a walk around the room or in the yard. Most dogs will be able to walk outside to potty as long as they are on a leash, unless they require potty pads for the first week.
After a week or two, depending on the surgery, your pet should be able to do short, slow walks down the block or around the yard. Limit their movement and don't let them jump or run during recovery. A mellow game of tug of war using something soft, like a stuffed animal, can give them a bit of exercise without excessive movement.
Once your pet gets through their initial recovery, resume daily walks, but keep the time and speed minimal. Gauge how your pet is doing. Do they seem like they have any pain or discomfort? If their recovery instructions give you the okay to do longer walks, continue to progressively build stamina as you increase the duration of the walk.
Other forms of gentle exercise for postoperative pets include:
Walking up and down steps
Swimming
Lying down and getting up, then repeating
Sitting and standing, then repeating
Walking in a circular motion, then changing direction
Entertaining Your Post-operative Pooch
Most dogs get bored when they cannot participate in activities or the things that interest them. One way you can add to their level of interest is by offering your pet many enrichment options for their amusement. This helps to distract them from the fact that they must be resigned to bed rest for a while.
Like us, pets need things to do to keep them happy.Here are a few favorites we recommend:
Fillable chew toys, like Kong or Monster Mouth
Teach your dog new tricks
Give them their meal in a puzzle game that dispenses treats or kibble
Make them some frozen treats using a DIY dog friendly recipe
Switch out their toys
Interactive games like tug of war, hide and seek, and rolling a ball across the floor
Put on their favorite animal-related video or a channel like Animal Planet
Additional Help for Exercising Your Dog After Their Surgery
We understand that surgery can be stressful and the road to recovery can be long. But there is every reason to keep your pet engaged and active through gentle exercise and entertainment. This not only increases their quality of life it also speeds up the process of a successful recovery. We are sure that with guidelines and creativity, your pet will be back to their energetic, upbeat, and healthy self in no time.
For more information on exercising your dog after their surgery, or to schedule an appointment, please contact us.
Dr. Tullio has always treated our dogs with great knowledge' care' and compassion' and we have grown to know him quite well. We have been so completely impressed with Dr. Tullio's consistent excellence in care and services that we wanted to share our experience with others. We are pleased to recommend as the place to go for both quality treatment and compassionate care for your furry family members.

—Chuck Porrazzo
When my parents' dog Kya died very suddenly a few years ago' their regular vet was not at work that day. But thankfully' Dr. Tullio was and treated my parents and their dog as if he was their doctor for the past 15 years—doing everything he could to try and revive Kya and by being so compassionate to my parents in the waiting room after having to deliver the sad news. We truly can't say enough nice things about Dr. Tullio and can't wait for him to open his new facility! Thank you.

—Lori Forrest & Bob Leahy
Doctor Tullio is a kind, caring gentleman who has cared for my cocker spaniels for many years now. He has always been helpful' honest' and understanding with my pets and me. He is a man I trust completely and have and do refer others to him. Any pet owner can feel safe and secure in trusting their beloved pets to his skilled hands.

—Margaret Rowe' Howell' NJ
Molly and Oscar have been patients of Dr. Tullio for several years. I have been very pleased with his care' his expertise' and his understanding with my two Wheatens. Dr. Tullio has been quick to diagnose any issues and remedy all of the problems we've had. I look forward to many more years working with Dr. Tullio. I wish him well in his venture.

—Fran Skiba