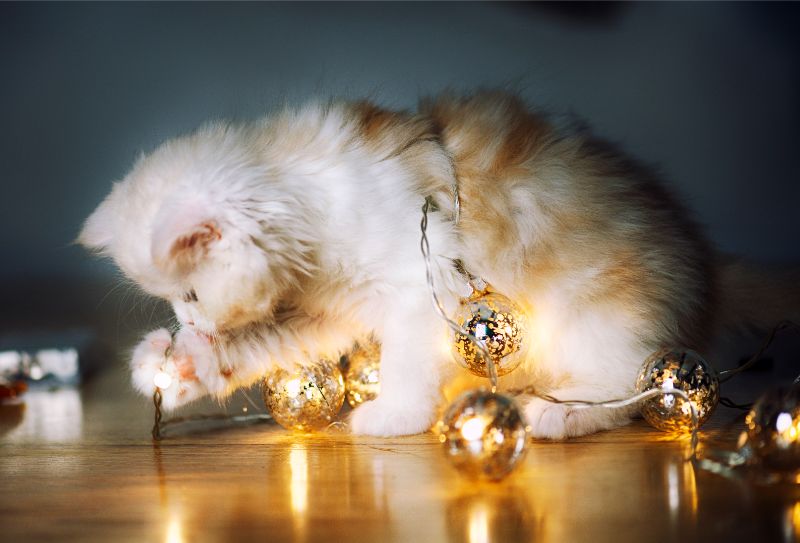 Few things are more exciting than celebrations with family and friends during the holiday season. And since a full 70% of us consider our pets to be family members, it's a given that we want to share the holiday festivities with our pets.

But easy access to holiday food, decorations, and all the parties and visitors that herald the season can spell big trouble for our pets. And nothing can ruin a holiday celebration like a trip to the animal emergency room.

Keep your holidays merry and bright with our holiday pet safety tips, and avoid a pet emergency this year.
Feast Fiascos
Big holiday meals, treats on every table, and edible gifts all mean that close supervision is especially necessary at holiday time. Many of our favorite goodies can be harmful for pets. Fatty, sugary, and salty foods can cause GI upset, a foreign body obstruction, or pancreatitis, a painful and potentially deadly condition. Make sure all food is kept out of reach and that garbage bins are tightly covered and stored securely.

Holiday foods to avoid include:

Chocolate
Xylitol
Alcohol
Grapes and raisins
Macadamia nuts
Onions, chives, and garlic
Raw bread dough
Raw poultry, meat, and bones
Deck The Halls (Safely)
When greenery is concerned, it's best to be aware of plants that are toxic to pets – including mistletoe, poinsettias, and holly. The ASPCA has a great resource for dogs and cats.

Christmas trees should be securely anchored to prevent curious climbers from tipping them over. Prevent pets from drinking tree water, which can contain harmful pesticides and fire retardants that leach from the tree. Dangling ornaments, string lights, tinsel and ribbon (especially problematic for cats) should all be hung high on the tree where pets can't access them (if used at all).

Candles should be closely attended to prevent singed whiskers or tails, or consider LED lights instead. Potpourri and essential oils should be placed well out of reach of pets.
The Wonderful World of Pet Anxiety
The anticipation of the season can bring stress and anxiety to people and pets alike. Noise, change in routine, and visitors can all be particularly stressful for pets who are shy or anxious.

Holiday pet safety also means keeping your pet's feeding, exercise, and playtime schedule as close to normal as possible, and making sure they get plenty of exercise each day to minimize stress. A doggie daycare, a walk with a pet sitter, or a few hours in a quiet room can do wonders for a pet who has trouble with visitors.

Extra stress and anxiety may also make the risk of escape more possible. Ensure your pet is protected with a microchip that is registered with your current contact information.
More Than Holiday Pet Safety
It's easy to let pets take a back burner in all the hustle and bustle of the season. This year, we encourage you to slow down and enjoy quality time with family and friends, including your pets. A holiday movie on the couch together, an extra walk in the brisk winter weather, or a little extra playtime indoors are wonderful ways to honor the special bond you share.

From all of us at True Care Veterinary Hospital, the very warmest holiday wishes to you and your pets! Please call us if you would like more information or have questions.

When my parents' dog Kya died very suddenly a few years ago' their regular vet was not at work that day. But thankfully' Dr. Tullio was and treated my parents and their dog as if he was their doctor for the past 15 years—doing everything he could to try and revive Kya and by being so compassionate to my parents in the waiting room after having to deliver the sad news. We truly can't say enough nice things about Dr. Tullio and can't wait for him to open his new facility! Thank you.

—Lori Forrest & Bob Leahy
Doctor Tullio is a kind, caring gentleman who has cared for my cocker spaniels for many years now. He has always been helpful' honest' and understanding with my pets and me. He is a man I trust completely and have and do refer others to him. Any pet owner can feel safe and secure in trusting their beloved pets to his skilled hands.

—Margaret Rowe' Howell' NJ
Molly and Oscar have been patients of Dr. Tullio for several years. I have been very pleased with his care' his expertise' and his understanding with my two Wheatens. Dr. Tullio has been quick to diagnose any issues and remedy all of the problems we've had. I look forward to many more years working with Dr. Tullio. I wish him well in his venture.

—Fran Skiba
Dr. Tullio has always treated our dogs with great knowledge' care' and compassion' and we have grown to know him quite well. We have been so completely impressed with Dr. Tullio's consistent excellence in care and services that we wanted to share our experience with others. We are pleased to recommend as the place to go for both quality treatment and compassionate care for your furry family members.

—Chuck Porrazzo